Sesame-Ginger Chicken Meatballs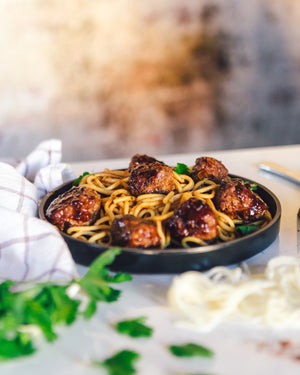 YIELD: 4 servings
PREP TIME: 20min
COOK TIME: 15min
TOTAL TIME: 35-40min
INGREDIENTS:
DIRECTIONS:
Preheat the oven to 450° and brush a rimmed baking sheet with canola oil.
In a large bowl, add chicken and FreshZen pesto and garlic mix well.
Add egg, panko, sesame oil, and 1 tablespoon of soy sauce and mix well.
Roll out 1 1/2 meatballs and place them on a baking sheet (Approximately 20).
Brush the meatballs with canola oil.
Bake for about 13-15 minutes, until browned and cooked through.
Transfer the meatballs to a platter and serve with Asian chile sauce. 
---
Leave a comment
Comments will be approved before showing up.