5 Minute Spicy Garlic Shrimp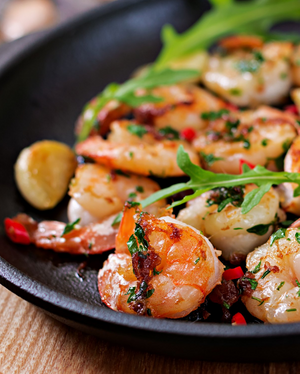 Prep time | 5 m
Cook time | 5 m
Serves | 4
INGREDIENTS:
2 tbsp oyster sauce
2 tbsp FreshZen Chilli Garlic
1 tbsp freshZen Ginger Scallion
1/4 tsp black pepper
1 tbsp of oil (avocado, canola, sunflower)
1.5 lbs peeled and deveined shrimp
2 tbsp white wine
handful chopped cilantro or arugula (optional for garnish )
DIRECTIONS:
If using frozen shrimp, defrost in the refrigerator overnight. For quick defrosting, place shrimp in a colander and run cold water over until no longer icy, about 5 minutes.
Thoroughly drain, and pat the shrimp dry using paper towels.
Mix oyster sauce, FreshZen Chilli Garlic sauce, and black pepper in a small mixing bowl set aside.
Heat a 12-inch skillet or cast iron pan over medium-high heat. Add oil, freshZen Ginger Scallion until the edges are light golden, add the shrimp in a single layer.
Cook without moving until shrimp turn pinkish on the bottom and start to curl about 1 minute.
Pour wine and deglaze the skillet. Quickly flip and cook until pink and curled into a loose "C" shape, about 1 minute.
Pour the sauce mixture and cook another minute.
Turn off the heat. Garnish with cilantro or arugula
Enjoy!
---
Leave a comment
Comments will be approved before showing up.