Broccolini with Ginger Garlic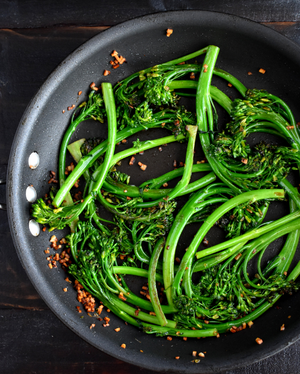 SERVINGS: 4

INGREDIENTS:
Salt
2 pounds Broccolini (about 4 bunches)
¼ cup extra-virgin olive oil
2 tablespoon FreshZen Ginger Scallion Garlic pesto
DIRECTIONS:
1)Bring a large pot of salted water to a boil. Add the Broccolini and cook until bright green and barely crisp-tender, about 5 minutes. Drain, reserving 1/4 cup of the cooking water.

2)In a very large skillet, heat the olive oil with FreshZen Ginger Scallion Garlic pesto and cook over moderate heat until fragrant, about 1 minute. Increase the heat to high, add the Broccolini and toss to coat with the oil. Add the reserved cooking water and toss occasionally, until the Broccolini is crisp-tender, about 2 minutes. Season with salt and transfer to a platter. Serve warm or at room temperature.

The Broccolini can be kept at room temperature for up to 4 hours.
---
Leave a comment
Comments will be approved before showing up.