Chinese New Year Lettuce Wraps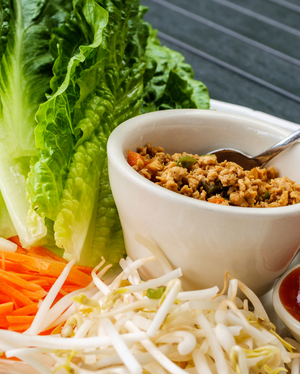 Ingredients
1 Boston or romaine lettuce
1 tablespoon sesame oil
1 tablespoon Freshzen Ginger scallion garlic pesto
1 pound ground chicken breasts
1 tablespoon freshZen chili garlic sauce
1  water chestnuts (canned, rinsed in warm running water, and diced)
1 teaspoon cornstarch (mixed with 2 tablespoons water)
1 cup of bean sprouts1 cup of shredded carrots
For the Sauce:
1 tablespoon soy sauce, tamari
2 tablespoons oyster sauce
1 tablespoon sherry or white wine
1 teaspoon sugar
Directions
Wash the lettuce, dry, and separate the leaves.
Set aside.
Mix together the sauce ingredients.
Heat the sesame oil in a non-stick frying pan on high heat.
Add the freshZen ginger, scallion, garlic pesto and fry until the herbs are aromatic. Pro Tip: Cautions Dont not burn the pesto
Add the chicken and cook until the chicken is browned.
Remove the chicken from the pan and set aside.
Add the freshZen chilli garlic sauce, water chestnuts, and celery to the frying pan.
Add the sauce ingredients and cook at medium heat, Give the cornstarch/water mixture a quick restir and add to the
sauce, stirring to thicken.
Add the chicken back into the wok. Cook for 2 to 3 more minutes, stirring, to heat through and finish cooking the chicken.
Lay out a lettuce leaf and spoon a heaping teaspoon of the chicken and vegetable/sauce mixture into the middle. Top w shredded carrots and bean sprouts. 
The lettuce wraps are designed to be eaten "taco-style," with the lettuce/chicken mixture folded into a package.
Continue with the remainder of the chicken and lettuce leaves.
---
Leave a comment
Comments will be approved before showing up.