Mason Jar Healthy Rice Noodles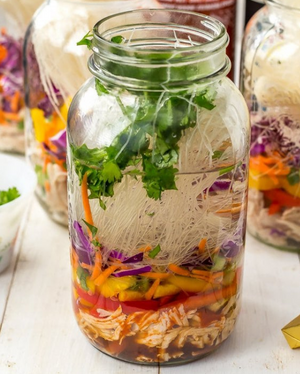 YIELD: 1 servings
PREP TIME: 5 min
COOK TIME: 5 min

INGREDIENTS:
¼ cup protein of choice
¼ cup thinly sliced mushroom
¼ cup matchstick cut carrot
½ cup fresh chopped spinach
1 cup dry vermicelli noodles
1 tbsp freshZen Ginger scallion pesto
2 tbsp of freshZen Chilli Garlic
1 cup hot veggie or bone broth
DIRECTIONS:
Fill a mason jar with freshZen chilli Garlic hot sauce, and freshZen Ginger scallion pesto
Add mushrooms, carrots, spinach, any protein of choice, and noodles
Store in the fridge for up to 5 days.
When you're ready to serve, pour in the boiling hot veggie or bone broth. Stir well.
Enjoy
---
Leave a comment
Comments will be approved before showing up.