Build-Your-Own Buddha Bowl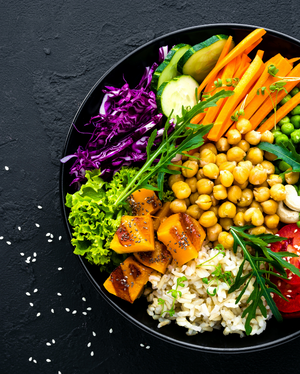 YIELD: 2 serving
PREP TIME: 10  MINS
COOK TIME: 0 MINS
INGRIEGENTS:
2 1/2 cup short-grain brown rice or long-grain brown rice, rinsed
1 cup frozen unshelled edamame
1 cup trimmed and roughly chopped snap peas or snow peas, or thinly sliced broccoli florets
2 to 4 tablespoons reduced-sodium tamari or soy sauce, to taste
2 tablespoons FreshZen Ginger Scallion Classic pesto
1 cup chopped red cabbage or spinach or romaine lettuce or kale (ribs removed)
1 cup of cooked squash cubed
1 cup of chickpeas
1 cup chopped tomatoes 
2 tablespoons sesame oil
Garnishes  (optional)
2 small cucumber, very thinly sliced
Thinly sliced green onion (about 1/2 cup)
Lime wedges
Flaky sea salt
INSTRUCTIONS
Bring a large pot of water to boil (ideally about 5 cups of  water). Once the water is boiling, add the rice and continue boiling for 25 minutes. Add the edamame and cook for 3 more minutes (it's ok if the water doesn't reach a rapid boil again). Then add the snap peas  or (veggie of choice) and cook for 2 more minutes covered. 
Drain well, and return the rice and veggies to the pot. Season to taste with 1 to 2 tablespoons of tamari or soy sauce, and FreshZen Ginger Scallion stir to combine.
Divide the rice/veggie mixture and raw veggies into 2 bowls. Arrange cucumber slices along the edge of the bowl (see photos). Drizzle lightly bowl with sesame oil, FreshZen ginger scallion, tamari sauce mixture and top with sliced green onion. Place a lime wedge or 2 in each bowl.
If you intend to have leftovers, wait to complete step 3 just before servingLeftover bowls keep well for 4 to 5 days in the refrigerator..
---
Leave a comment
Comments will be approved before showing up.