Grilled Shrimp with Ginger Scallion Sauce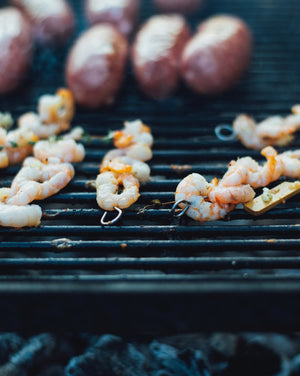 YIELD: 1 servings
PREP TIME: 5 min
COOK TIME: 5 min
TOTAL TIME: 10 min
INGREDIENTS:
2 Tbs Light olive oil
1/3 cup FreshZen Roasted Garlic Ginger Scallion 
Salt, pepper
1 lb shrimp
1 Tbs Sweet Soy Sauce
1/8 Tsp chopped cilantro
DIRECTIONS:
Combine soy, olive oil, salt, pepper and FreshZen mixture in a small bowl.
Preheat grill. 
Brush shrimp with liquid mixture. 
Grill shrimp 3-5 minutes or until opaque.
Remove from grill and drizzle with green onion-ginger mixture and soy sauce. 
Sprinkle chopped cilantro on it (if wanted).
---
Leave a comment
Comments will be approved before showing up.