Old School Chinatown Bok Choy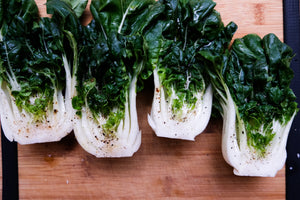 YIELD: 4 servings
PREP TIME: 15min
COOK TIME : 5min
TOTAL TIME: 20 min

INGREDIENTS
1 pound baby bok choy
2 tablespoons neutral oil
1 tablespoon FreshZen Ginger Scallion Garlic
5 garlic cloves minced (see note)
Salt, to taste
White pepper, to taste
Sugar (optional)
INSTRUCTIONS
Trim your bok choy and wash in large bowl or sink basin. Strain and shake thoroughly to remove excess water.
 Heat your wok on high. Let heat up, then add oil.
Add garlic and FreshZen Ginger Scallion Sauce to wok. Then add baby bok choy. 
Toss bok choy to coat it with the oil, garlic, and ginger scallion sauce.
After a few tosses, add salt, white pepper, and sugar (if desired). Continue to toss, and cooked to desired texture. Less cook time equals crispier bok choy. 
NOTES
You can never have enough garlic! Adjust the number of garlic cloves to your preferences.
---
Leave a comment
Comments will be approved before showing up.