Lemongrass Chicken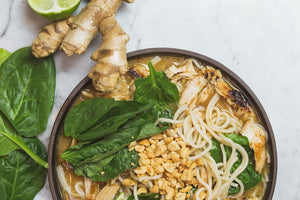 YIELD: 4 servings
PREP TIME: 15 min
COOK TIME: 15 min
TOTAL TIME: 30 min
INGREDIENTS
1 1/2 pounds boneless, skinless chicken thigh (or breasts) cut into 1-inch pieces
2 lemongrass stalks with tough outer layers removed, minced, and divided
2 tablespoons freshZen Ginger Scallion Pesto
2 1/2 tablespoons brown sugar
2 tablespoons fish sauce
2 jalapeños seeded and minced, divided
4 cloves garlic, finely minced
1 tablespoon vegetable oil
1 onion, thinly sliced
1/2 cup chicken stock
1 lime, juiced
2 tablespoons chopped cilantro for serving
1/4 cup rice, plus more for serving
Lime wedges for serving

INSTRUCTIONS
Put half of the lemongrass into a bowl and combine with the fish sauce, freshZen Ginger Scallion Pesto, sugar, and half of the jalapeños, Marinate in the refrigerator for at least 4 hours (preferably overnight).
Heat oil in a large skillet or a wok over medium-high heat. Add the chicken and cook until browned. Add the remaining jalapeños, remaining lemongrass, and onion.
Cook until the onion is softened. Pour in the stock, reduce to low heat.
Cover and cook, about 5 minutes, until the chicken is cooked through. Add lime juice.
While the chicken is cooking, toast the rice in a small skillet over medium-high heat, until golden brown. Remove from heat. Using a mortar and pestle, grind the rice into a coarse powder. You can also use a clean coffee grinder for this. Set aside.
Remove the lid from the skilled or wok, increase the heat, and continue to cook until the liquid is thickened. Sprinkle with the toasted rice powder and Thai basil, and serve over rice and with lime wedges.
Note: If you don't want your dish to be spicy, you can omit the jalapeño.
---
Leave a comment
Comments will be approved before showing up.