Korean Buckwheat Noodle Salad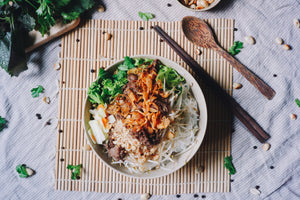 YIELD: 4 servings
PREP TIME: 15min
COOK TIME : 10min
TOTAL TIME: 25 min

INGREDIENTS
Protein marinade:
2 tablespoons gochujang (Korean red pepper paste)
2 tablespoons rice wine
1 tablespoon rice vinegar
1 teaspoon sesame oil
1/2 teaspoon garlic
1 teaspoon ginger
1 lb. shrimp, peeled and deveined

—

see notes
Dressing:
1 tablespoon gochujang (adjust according to preference)
1 tablespoon honey or maple syrup
1 tablespoon mirin (Japanese rice wine)
1 tablespoon ponzu, tamari, or soy sauce
2 tablespoons rice vinegar 
1/2 teaspoon garlic, minced
1 tablespoon freshZen Ginger Scallion Garlic Pesto
2 teaspoons sesame oil
Salad:
8 ounces Japanese or Korean buckwheat noodles

—

see notes
1 red bell pepper, julienned
1 cup matchstick carrots
1 cup matchstick snow peas (lightly cooked)
3 scallions, chopped (reserve some for garnish)
sesame oil, to drizzle on noodles
toasted sesame seeds, for garnish
INSTRUCTIONS
Mix together protein marinade ingredients.
 Add peeled and deveined shrimp or other protein to the marinade.
Boil water in a large pot. When the water is boiling, add the noodles and cook according to package instructions. Be sure not to overcook the noodles.
While your noodles cook, grill the shrimp (or other protein) over a hot grill. This requires a minute or two per side if using shrimp, depending on your grill. Adjust accordingly.
Rinse, drain, and toss the noodles with a bit of sesame oil, then set aside.
Toss the prepared veggies and noodles with the dressing. Top with the grilled shrimp (or other protein), and garnish with remaining scallions and toasted sesame seeds.
NOTES
While I do like shrimp, there are several other options for proteins. Try grilled tofu (firm), grilled tempeh, precooked rotisserie chicken, or chicken breasts. Chicken would require 1 to 2 hours ahead of time to absorb the flavor of the marinade, but shrimp, tempeh and tofu take less time.
I give my noodle salad a sweet twist by adding honey or maple syrup.
As mentioned above, you can substitute other noodles. Remember to follow the directions on the package. No one likes soggy noodles!
---
Leave a comment
Comments will be approved before showing up.