Ginger Chinese sausage fried rice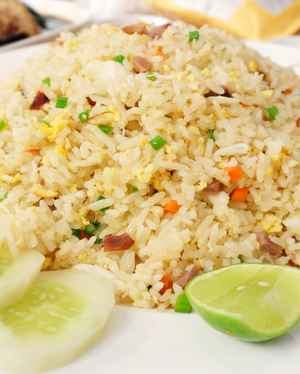 SERVINGS: 4
INGREDIENTS:
2 tablespoons cooking oil

2 cloves garlic, minced

2 Chinese sausage, cut into small ¼ inch pieces

1 cup frozen mixed vegetable, thawed or 1 cup finely chopped iceberg lettuce

4 cups steamed and cooled cooked white rice 

3 tablespoons FreshZen ginger scallion pesto 

1 tablespoon fish sauce

1 tablespoon soy sauce

3 dashes ground white pepper 

Salt, to taste
INSTRUCTIONS:
Heat up a wok or skillet with the cooking oil on medium 

heat.

Add and saute the garlic and freshzen's ginger scallion pesto until aromatic. Add the 

Chinese sausage, stir and cook for about 3 minutes. 

Add the mixed vegetables or chopped lettuce and stir well.

Add in the pre-cooked and cooled rice, stir, and cook for about 3 minutes until combine well with all the ingredients.

Add the fish sauce, soy sauce, ground pepper, salt and continue to stir-fry for a minute or two.
As soon as the rice becomes toasty, dish out, and serve immediately.
PRO TIP:
Leftover rice or cooked rice is ideal for making fried rice due to the lower 

moisture content in the rice.

Freshly made rice is too "starchy" and "wet" for good fried rice as the rice would be mushy and stick together.

Leftover rice that has been refrigerated is dry and perfect for fried rice.
---
Leave a comment
Comments will be approved before showing up.