The Taste of Home: Cantonese Soup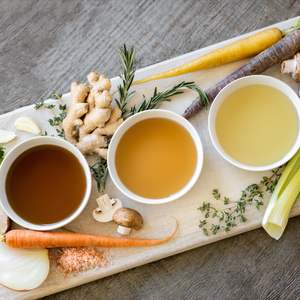 "Ruby, Tong!" was probably one of my favorite phrases to hear from my mom's kitchen whenever I was home visiting from college.
Tong, as we the Cantonese would call broth, is just as essential to any dining table as rice. Usually composed of a protein (chicken, pork, beef, or fish) combined with vegetables, seeds, and medicinal herbs, Tong is served at the beginning of the meal and consumed throughout mealtime as a beverage. In my family, Tong is a healing tonic and has always been a central dish that we would never want to miss in any meal. We love Tong not only because it is packed with umami and the comfort of home but also because of its wonderful healing properties. In fact, the prolonged cooking time of Tong is what allows for all the goodness from the bones and veggies to be fully diffused into the broth. 
Now, as a mother of four kids, I often make Tong for my own family. Nothing can be more nourishing than this wonderful food therapy that has been passed down for generations. The collagen from the bone tissues is turned into gelatin, which helps with the assembly of amino acids in our body. The abundance of various minerals such as calcium, magnesium, and phosphorus present in Tong has been shown to boost joint health and help fight osteoarthritis. Furthermore, certain amino acids in bone broth can lower the risk of inflammatory bowel disease, helping us build a stronger intestinal barrier. 
For all my busy friends who might not have the time to prepare the bone broth yourself, you could always stock up some pre-made premium bone broth like Five Way Foods' broths from your local food market,  best if made from grass-fed beef, free-range chicken, pasture-raised pork, or wild-caught products.  And if you're a vegetarian, no worries. A well-prepared vegetable soup can be just as delicious and nourishing as bone broth. Sometimes I add seaweed to my favorite vegetarian soup recipes for that extra kick of umami and added health benefits.  As long as you remember to eat the rainbow by incorporating a variety of colorful veggies into your meals, rest assured that you will maintain an adequate intake of vitamins and fiber and improve the body's equilibrium.
For centuries, the Chinese have believed in the preventative and curative power of soups. So if you are searching for a delicious way to replenish your body, consider giving Tong a try. Whether it's a bone broth or vegetable soup, served as a simple side dish or as the base of your ramen, this warming elixir is promised to bring you and your family joy. 
---